Discover tons of newly added animals in a massive custom world! Every animal has its own unique behaviors, animations, and sounds. Explore in every direction! Stay tuned for more updates in the future!
If you've always wanted Minecraft to have more animals then this is the perfect map for you! Explore the custom terrain and start a survival adventure with more animals!
Price: 1340 coins
Release Date: July 16th 2019
Category: Mobs, Survival
Players: Any amount
Features
50+ new naturally spawning custom animals from all biomes of the world!
3000×3000 custom terrain
Each animal has unique behaviors, animations and sounds! 
These Animals will not work in your own worlds! Only the special world we've prepared for you. The marketplace does not currently support add-ons in personal worlds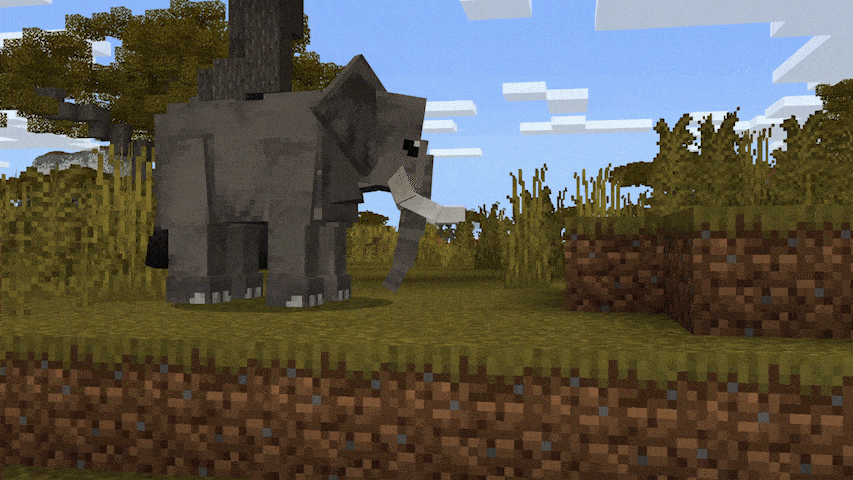 Fully Animated!

Each animal has many complex animations to really make them feel alive. Penguins waddle, lions lick their toes, frogs leap and much more! We heard that crabs do something interesting around noon… 
Custom Behaviors

Watch out, some animals bite! The animals in this world really come alive through their custom behaviors, you'll see tigers hunting deer, orcas attacking sharks, grazing bisons, soaring eagles and much more! 
Naturally Spawning Animals

The animals in this world will spawn naturally in the biomes they live in in the real world! You'll need to explore other biomes to find them all, some are more rare than others! Animals also spawn outside of the custom terrain in the natural Minecraft world, you'll be able to encounter animals everywhere, from camels in a desert village to sharks near an ocean temple! 
Massive Custom World

Explore a 3000 x 3000 custom world made up of enhanced Minecraft biomes where the animals live, sleep and eat. The colorful mesa biome, lush jungle and gorgeous mountains make for the perfect home for your next survival adventure! 
You may also like these Minecraft Maps...
Enter a mythical land of adorable creatures! Tame them as babies and watch them grow into adults! Pet them, ride them, have them perform tricks, …
Enter the Dog Sanctuary! Interact with 10 different breeds! Pet them, and they'll snuggle up with you!
Fly over city rooftops with your grappling hook! Roleplay as a ninja, a citizen, or even a shogun in this expansive and detailed 19th century …
Experiencing issues with the map?