Restore and decorate your very own magical castle!
Restore the castle of King Minedas to its former glory! Unlock tons of medieval furniture and decorate the castle to your liking! Customize rooms and layouts and uncover the kingdom's dark history along the way!
Restore rooms with a snap of your fingers!

Show off your furniture and customize your own spaces!

Craft brand-new, fully-animated medieval furniture!

Traverse a rich landscape to hunt for resources!

Discover the castle's secrets through hidden lore books!
Price:  1510 minecoins
Release Date: August 17th
Category: Roleplay, Survival
Players: Any amount
Conjure Up Your Very Own Castle!
Would you pass up a free, gigantic, abandoned castle in a beautiful forest? What if you got to decorate it however you wanted with a snap of your fingers and just a few resources? What if it was haunted by the ghost of a king whose quest for knowledge and power destroyed everything around him?
He wants your help to make that castle beautiful and peaceful again to make up for his mistakes?
Help King Minedas and express your style with completely original medieval furniture, only in Castle Builder!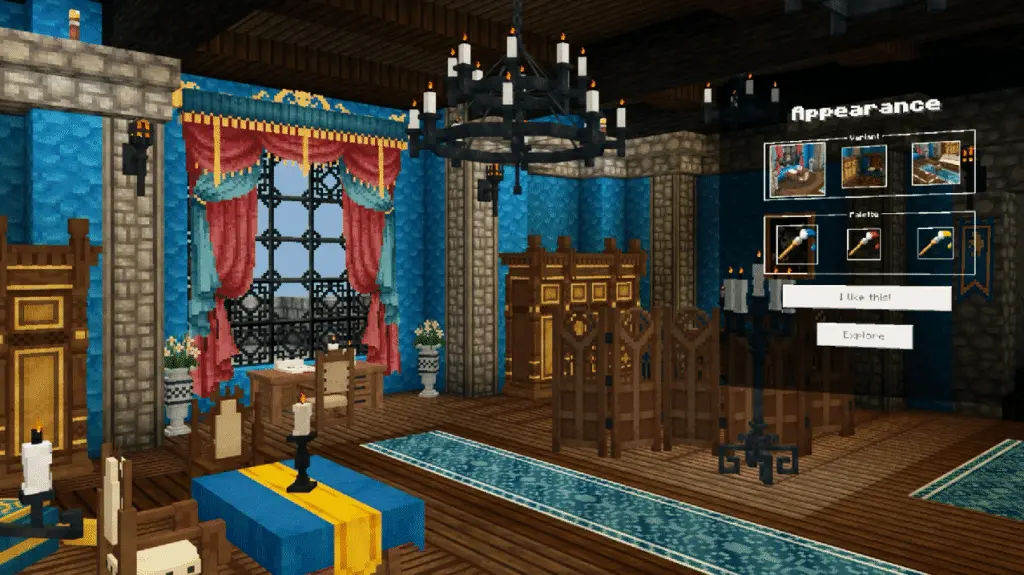 Decorate any way you want to!
With dozens of unique furniture items and artwork to craft, buy, and decorate, you can let your inspiration run wild! Use a variety of fancy tools to help you place that candelabra, tapestry, or throne just right in your ballroom, bedroom, or wherever!
Nature's Bounty
The castle's walls don't keep you away from the gorgeous wilds. Get out there and explore! You'll need a ton of materials from the town, forest, lakes, and odd locations in order to restore all the crumbling castle's rooms to their former glory.
Of Magic, Mystery, and Minedas
Once upon a time, a prosperous kingdom fell to ruin at the hands of King Minedas. Now, he's returned as a sad, repentant ghost, ready to atone for his mistakes. Earn King Minedas's trust, restore his castle, find the hidden notes and books from a time long past, and soon you'll learn what tragedies befell the kingdom.
You may also like these Minecraft Maps...
Create your own action movie in Minecraft! Choose the star for your next blockbuster hit, set the scene, and capture that spectacular stunt from the …
The aliens are comin' for your chickens! Stop the Chicken Thieves from abducting your precious poultry as UFOs drop hilarious alien bad-guys! Play in 4 …
Make your way through a challenging randomized dungeon and get rewarded with Lucky Blocks! Every playthrough is different! You only get one life… how long …