It's a mini-game battle royale!
Compete in nearly 80 micro-games in this crazy new game show! The faster you go, the more money you earn! No episode of this reality show is the same as another, and there are so many types of minigames to try out, you're guaranteed to have a fun time each time you play alone or with friends!
Play on your own or compete against up to three other friends!
Try out tons of unique, off-the-wall minigames!
Pretend to laugh at Mr. Rainbow's jokes and puns!
Go through each level as fast as you can!
Every playthrough is unique!
Win stupid prizes!
Category: Minigames
Players: 1-4 Players
Who is this quirky, mustachioed, cheerful go-getter laughing at his own jokes? Why, it's none other than Mr. Rainbow, the fabled host of Millionaire Game Show! What a colorful character this jokester is. He's a family man, always spinning fond tales about his mother and grandmother. He loves food: eating food, cooking food, eating and cooking things that probably aren't food… Most importantly, he's single! And also very, very rich. Try to win him over by winning weird minigames on the reality TV show he hosts!
Fifteen Minutes of Game
The host, Mr. Rainbow, always has new tricks up his sleeves and more ideas than he knows what to do with. Every time you star in an episode of Millionaire Game Show, all the minigames, jokes, and solutions will change! It's impossible to predict what'll happen each time you play.
Rapid-fire Fun!
Challenge and fun is packed into every single one of Mr. Rainbow's minigame ideas; so much fun and challenge, in fact, you'll wish you had more than a minute to play each of them! Mr. Rainbow keeps his minigames short and snappy; better hurry up to get the most crowns.
Compete against your friends!
Feel like a little friendly competition? Grab up to three of your friends and promise them fame and fortune in Millionaire Game Show. Test your mastery of Mr. Rainbow's wildest, hardest minigames and win over the crowd—and the crowns—to earn your place as the best competitor this show has ever seen!
You may also like these Minecraft Maps...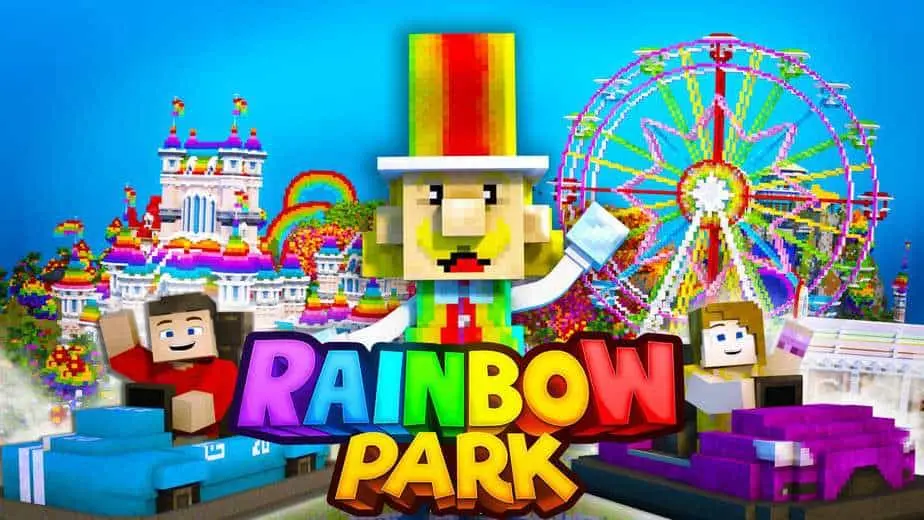 Welcome to Rainbow Park! In this colorful wonderland, you'll find all sorts of fun activities! 3 Awesome roller-coasters to ride. Win Rainbow Bucks in many …
Experience the future with this collection of 10 beautiful droppers! Challenge your friends in multiplayer, or beat your own score in singleplayer. Can you make …
An ancient dragon has ordered you to mine out vast caverns. Create golems from different ores to help you with this immense task! From diamond …